This week, I accepted to design flier and poster for Frisbee Club in order to use them in Club Day.
As be mentioned in the previous blog entry, the final flier contains two sides, these following pictures will show how the flier looks:
The poster was already posted in the last entry.However, the design of this poster is not what I want to mention. This entry is a chance for me to share my own experience in printing.
First of all, before starting design the poster, I asked my friend :"should I make a colored or black&white poster?" and the answer I received is:" If it's the first time of you, black and white is an appropriate solution". Personally, I thought black and white are two color which is easily printed. But, that was my fault T_______T , let see what I got for the poster: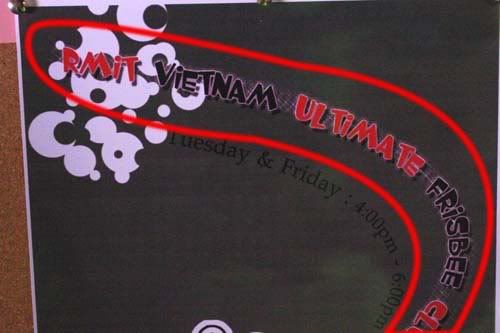 1. The gradient from black to white is not present accurately. As can be seen, it was changed to a color (in my opinion, it is light purple). And over th poster, I notice wherever the gradient is applied; especially in a small place; the color is presented less accurate.Briefly, the smaller the size of gradient (from back to white) is,the less accurate color presents .
2.I used to apply gradient for the whole background and lighten it.However, what I received is a half-tone background. As can be seen from the following picture (and also, from the above picture), the background seems to be divided in to small bars; and in each bar a gradient contained.
3. Because, I realized this trouble in color presentation almost after the poster printed, I asked the boss the reason. He said :" If you want a poster which is exactly the same to your original one; there is a printing method available for you". He called the method "in group" ("in" of "in ấn" in Vietnamese; I'm really sorry that I don't know what exactly this phrase in English), and it costs 150,000 VND ( 10 times of the price for the current printing method I used)
So, I want to conclude that if you want to print one poster or any paper, there are several thing you should concern:
1.Color system: CMYK (as we learned), RGB (the manager can help you to change it, but there are many differences and you can't handle them completely). Usually the color printed is darker than the one you see on the screen.
2.Arrangement of element: when I went to the store, they just required me an Corel file (Illustrator is ok, but this application is not popular in Vietnam printing store) and they helped me in almost steps.
3. You should choose one familiar printing store, 'cos different store offers different type of printing method. Sometimes, although placing in the same street, there are some printing method which is not applied by all shops.
4. The store I printed the poster placed on Lý Thái Tổ street (it's very famous about offset printing and various types of printing), and the price is 15,000 VND.
5.If you are looking for printing poster with that price, try to use less gradient and be careful when using black >.< . It seems the hardest color to present.
6. I found one news, we can use offset print and the cost is 35,000 VND for one A3 size poster. Another solution is printing picture (as normal, I means "rửa ảnh"), but the price absolutely high and sometimes color is not produced accurately.